By Emi Cirichelli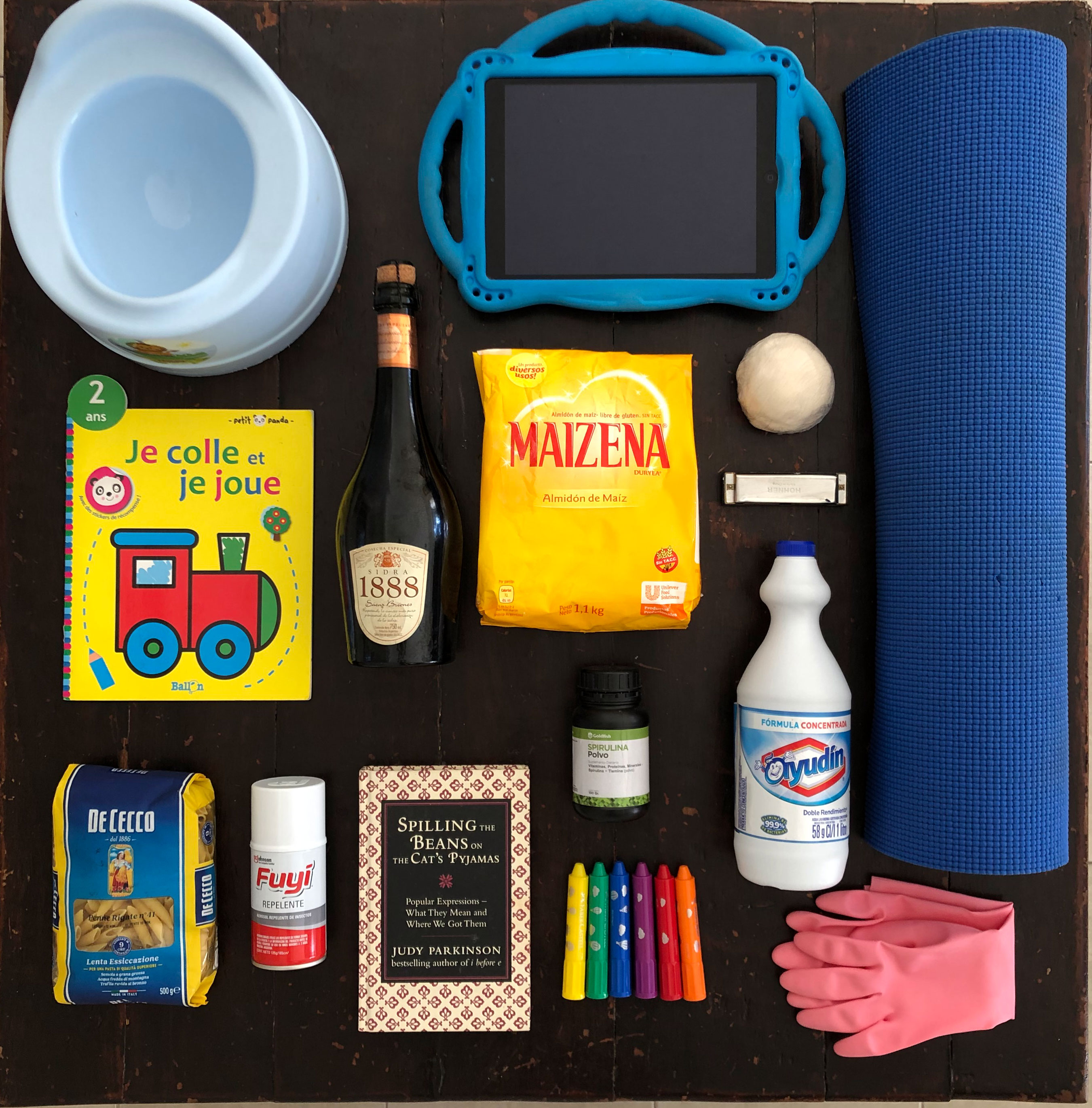 My essentials to "survive" the quarantine in Argentina...
Locked with Hubby, Twins Boys of almost three and Rita the Cat...

1. Potty: spending most of my time close by sitting on the floor...reading, talking, playing with the boys... We decided it would be a good opportunity to start potty training during the quarantine...
Well, we are still working on it...
2. iPad: How to describe it... Our best friend in the house?! We try to limit the use of Youtube and Netflix...but it's our link with school (hilarious session of zoom every week...) and also our family and friends so definitely a big part of our life now...
3. Yoga Mat: At the beginning of the quarantine I use it a lot to do exercise, I was full of energy and good resolution...!Well...after more than 50 days locked down I am just passing by... (feeling guilty though...)
4. French Sticker Book: Kids play, and learn new French words...They love it!
it reminds me of my childhood and holidays with my family…
5. Bottle of Cider: My favourite moment of the day! I am probably the only one in Argentina to drink cider! :-) but I assume it! A little bit of London still with me and this one is really good!!!
6. Maizena: I rediscovered it! Now on the top list of our favourite basic, I never thought I would cook so many cakes and crêpes! Almost a daily routine...
7. Harmonica: So powerful "tool" to stop the kids fighting and get their attention in two seconds! (Well, two seconds its better than nothing right?!)
8. Pizza dough: The best to solution to easy and fast dinners or a snack! Made by Hubby always delicious, the kids and I love it!!!
9. Bleach: Use it...abuse it...every day! (Without drinking it! ;-)) We clean the products we are buying from outside and we clean the house a lot... I mean a loooooot... (Remember we start potty training twins...!)
10. Pasta: The easy way to make everybody agree on the menu! My French, Italian blood is more than happy, my trousers not so much…
11. Insect Repellent: cannot live without it! It's our new perfume! We decided to quarantine in the countryside where there are fewer people and much more "green"... Amazing idea, except here, we are the only one to be bitten!!! When you go out the mosquitoes literally devour you!
It won't be cool to catch dengue on top of everything else...
12. Book "Spilling the Beans on the Cat's Pyjamas": My friend offered me this book when I left London a couple of years ago, I never opened it (sorry guys) but it is so amusing! I discovered or rediscovered crazy English expressions, I'm really enjoying it! My funny little moment of the day!
13. Spirulina: "They say" we need to reinforce our defence system, so a little spoon in the meal and you feel stronger already!
14. Markers: Great activity with kids...for 5 minutes of peace in the house... so so precious 5 minutes... I love them!
15. Gloves : Well...they are part of the cleaning kit now...and I use them to protect my already crocodile hands...