By Luca Pozzi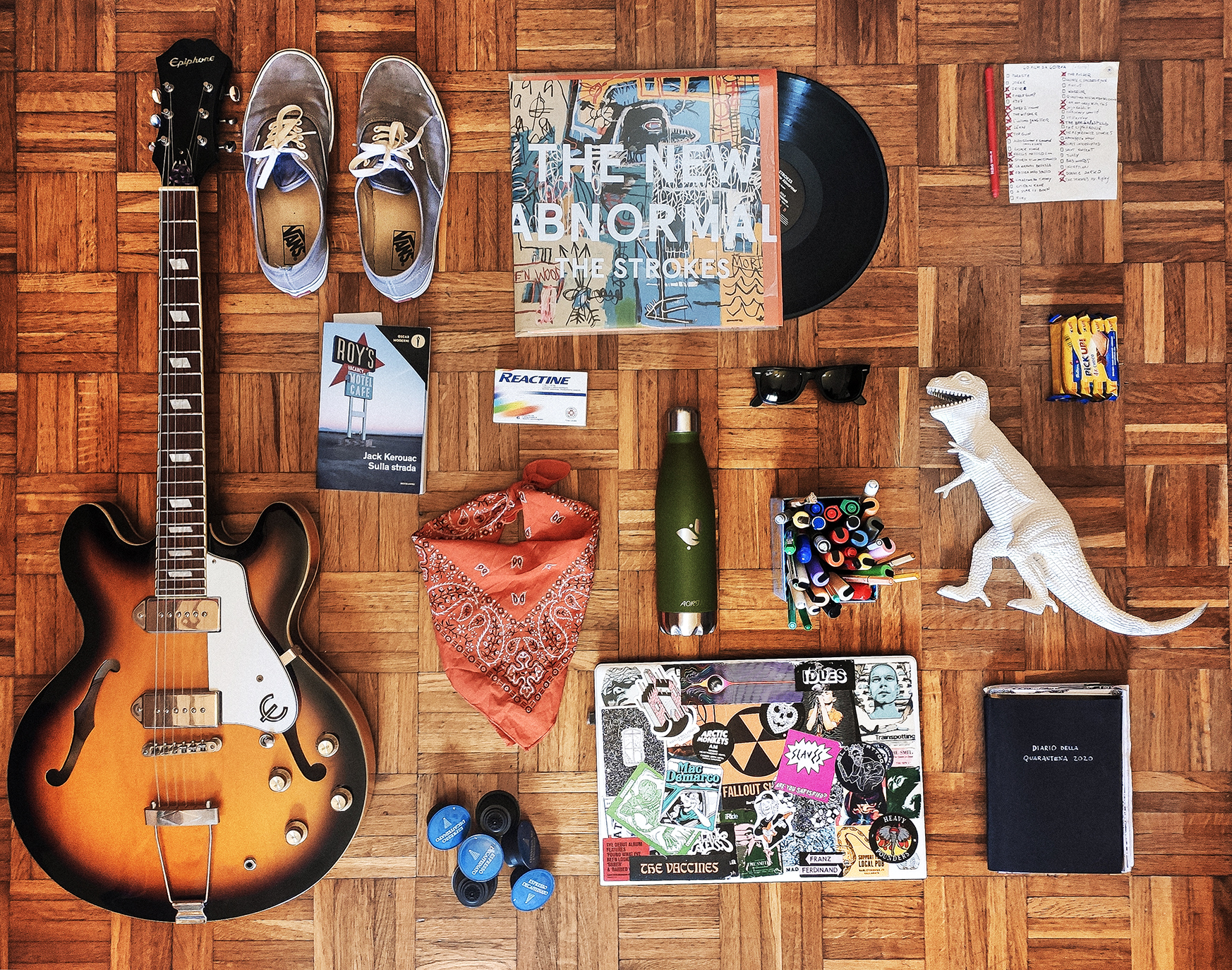 "My quarantine essentials"

1. Epiphone Casino guitar: I'm a huge John Lennon fan and in 2012 I bought this guitar with all of my pocket money. Finally now, I have more time to spend playing it and have learned new songs.
2. On the Road by Jack Kerouac book: a cult novel based on the travels of Kerouac and his friends across the United States.
3. A beat up pair of Vans: I bought this formerly bright blue pair of Vans a couple of years to go on vacation in Puglia. On first wear I smeared them with mud at a night party at the beach, the day after the colour faded away. Wearing them reminds me of that particular summer.
4. The New Abnormal by The Strokes vinyl: the last record I bought, I felt in love with it after hearing "Bad Decision" on the radio on the last time I was coming back home from work. Quarantine has been a bad time for all of us, but at least I re-discovered The Strokes.
5. My "40 films for Quarantine" list: I've compiled a list with all the movies that I've been postponing to watch for a long time. From Inception by Christopher Nolan, to La Grande Bellezza by Paolo Sorrentino I managed to watch 25 movies so far.
6. Reactine: I love Spring, it could have been my favourite seasons if it wasn't for the damn pollen that makes me sneeze all day.
7. My green water bottle: a well appreciated gift from my sister Cristina.
8. Bandana: this bandana has become my inseparable travel companion. I really like it because it makes me feel like a cowboy! and it is much cooler than a blue "antiseptic" mask.
9. A bunch of coloured markers: I don't know if I can call it a "collection" but I use them everyday they are all almost out of ink.
10. Ray-Ban sunglasses: a gift from my parents when I graduated. Since I don't have a garden and I can't go anywhere else, I only used them on my balcony.
11. Pick-up: my favourite snack which also reminds me of my childhood.
12. An old dinosaur toy that I painted during quarantine: I never liked his bright green colour so I decided to paint it all white to make it into a design piece. It was hidden away, and now sitting on my shelf it has become a conversation piece.
13. My PC (covered in stickers): I study Architecture at the Politecnico of Milan and since the lockdown I follow my University lessons from home. This new "smart working" is a bit exhausting for me since I was used to the chaotic, yet super stimulating environment of Milan.
14. My sketch book: Since quarantine started I tried to do a sketch every day in a different style.
15. Decaf coffee capsule: trying to quit caffeine.